Frequently Asked Questions and Answers (FAQ)
What is Senior Move Management?
​
Senior Move Management is the profession that assists older adults and their families with the emotional and physical aspects of relocation and/or "aging in place."
Some Senior Move Management professionals have backgrounds in gerontology, social work, health care, nursing and psychology, others come to this industry from the corporate world of project management, technology, accounting, sales or marketing.
Although specific services vary, most Senior Move Managers® can help with some or all of the following:
​
Developing an overall move or "age in place" plan

Organizing, sorting and downsizing

Customized floor plans

Arranging for the profitable disposal of unwanted items through auction, estate sale, buy-out, consignment, donation, or a combination of the above

Interviewing, scheduling and overseeing movers

Arranging shipments and storage

Supervise and oversight of professional packing

Unpacking and setting up the new home

Related services, such as cleaning, waste removal, shopping, senior escort, assisting with selection of a realtor and helping prepare the home to be sold.
​
Additionally, Senior Move Managers® frequently assist individuals who choose to stay in their own homes, but simply require expert organizational skills and solid knowledge of "aging in place" concepts to help them achieve their goal of ... not moving anywhere, but improving quality of life!
Who uses Senior Move Managers®?
​
Senior Move Managers® are contacted by various sources:
​
Older adults

Family members

Bank and trust officers

Geriatric Care Managers

Attorneys

Social service providers/social workers

Senior living communities

Physicians and allied health providers

Realtors

Staging professionals
What are the real benefits of Senior Move Management services?
​
Senior Move Managers® have significant expertise in resources and approaches that save money, reduce stress and produce quality results.

Services are client-centered and personalized to meet the client's needs and preferences. Families, particularly, should never doubt the power of an outside expert!

NASMM members are reviewed for insurance and experience requirements prior to acceptance.

Ongoing educational programs reflect the NASMM commitment to professionalism and to working with older adults.

NASMM has developed a Code of Ethics and Standards of Practice for all members.
​
Why is Senior Move Management needed now and not twenty years ago?
​
The numbers tell the story. The U.S. population aged 65 and over will jump nearly 80 percent when the Baby Boom generation retires (from 2010 to 2030). By 2030, the elderly will account for one-fifth of the total U.S. population. Did you also know that Americans age 85 and above comprise the fastest growing segment of the U.S. population?

Today, many families are geographically dispersed and adult children are often not able to help with the moving process due to distance, career and family obligations. For family members living far away, the barriers may be geographic.

Many seniors have no surviving children, or increasingly, their children are older adults themselves. If illness or death precipitates the move, the family is likely already drained both emotionally and physically. They need help. Senior Move Managers® emerged to fill these gaps and to facilitate the transition for everyone involved.

Older adults making a transition have usually not moved in 30, 40 or 50 years and need to downsize considerably. The organizational and physical tasks associated with planning and implementing such a complex move can be overwhelming for the entire family. Seek the help of experienced, insured professionals and call a Senior Move Manager®.
How much do Senior Move Management services cost?
​
It's virtually impossible to calculate what a specific move might cost, as the fee can vary considerably by geographic region and the services requested.

Additionally, some Senior Move Manager® charge their fees on an hourly basis, while others prefer to package the cost of the entire job at one price.

NASMM members will always outline the cost of a job through a written estimate before you are required to submit payment.
Q & A:
​
I am interested in obtaining some help with my mom's move, but we can do most of the work to save money. Can I still contact a Senior Move Manager® to do just some of the work?
​
Yes, most Senior Move Managers® offer a menu of services from which you can choose and you pay accordingly. The ultimate goal of this industry is to ease the stress of the move process for older adults and family members, not add to your concerns.
​
What makes a Senior Move Manager® different from just a moving company? They seem pretty similar to me ... are they?
​
Senior Move Managers® provide a multi-faceted approach to the move process: from space planning in the beginning to post-move support and advocacy.

Senior Move Managers® minimize the chaos and stress associated with moving by addressing all aspects of the move process. They are responsible to for creating and executing a seamless action plan, customized to the client's wishes.

Actually, some but not all Senior Move Managers® are also movers. Those providers that are not movers will work closely with a reputable local moving company to complete that aspect of the job.

With the gentle and expert guidance of an experienced Senior Move Manager®, older adults and families make the key decisions without the emotional and physical distress that can follow. As a result, they avoid the costly mistakes and remorse that often accompany such major lifestyle transitions.

Senior Move Managers® do so much more than simply sort, settle and move boxes; with loads of energy, enthusiasm and experience, Senior Move Managers® take the worry (and work!) out of the move process. The client's job is to simply enjoy his or her new living arrangement.
​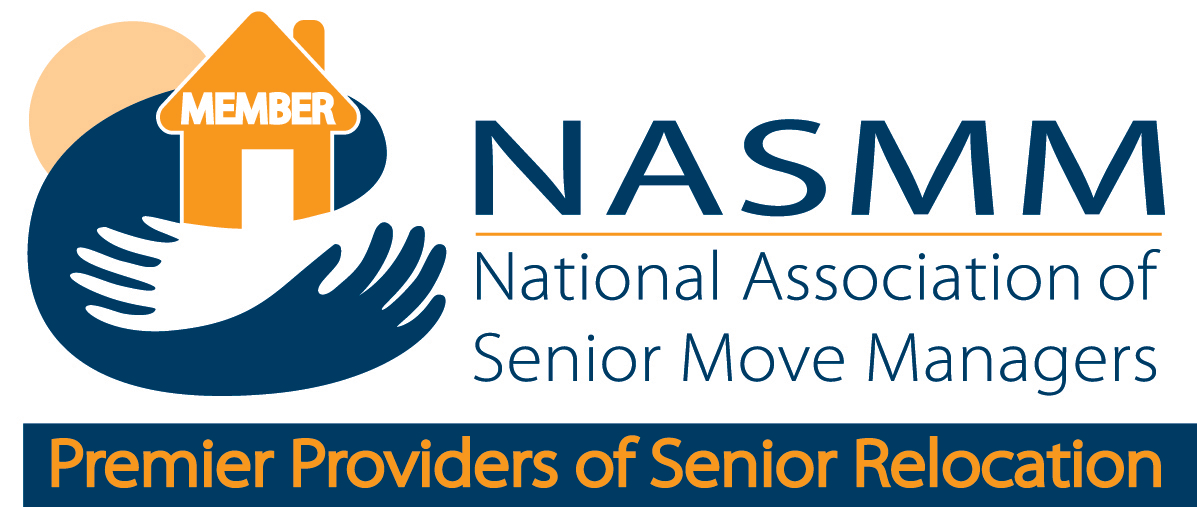 What is Estate Distribution?
Estate distribution also known as estate liquidations involves the sale and distribution of personal property an individual owns. We have many paths of distribution including estate sales, direct dealer sales, auction houses, consignments etc. We have a large network of professionals to assist with all of your needs.
How much does estate distribution cost?
Most of our services are paid for under our hourly agreements with you. Tangible out of pocket expenses such as moving supplies are billed separately. In some cases, we receive a small referral fee directly from our vetted dealers and subcontractors (usually 10%). This referral fee is standard and helps to offset the time we spend with them on communications, appointments, deliveries etc. Much of the work we do with them is separate and not covered under your hourly rate. In many cases, we have developed a long and trusted history with these vetted subcontractors and dealers. We bring them in under our own advertising efforts and expense.
What is an estate sale?
An estate sale is a sale held to resell a portion of the personal property of a person who is deceased, or who must resell their personal property to facilitate a move. We can do partial or whole estate sales and have excellent accounting records to detail the entire sale.
Usually our clients have moved or downsized and have furniture items that are left over. We can do a partial estate sale to sell the items so you have the financial resources you need. The most common reason for an estate sale is the death of a loved one or the need to downsize. An older family member may be moving into a retirement community, back home with family or to a smaller residence and might be unable to take all of their personal property with them.
Family members or friends may have no room to house or store the bulk of the estate left by the deceased or older adult that must downsize. They may simply lack space to keep those belongings or they may be employed full-time and be unable to spend the time required for a successful estate sale.
Our clients also do not want the added monthly expense of placing items in storage. Having an estate sale will provide much needed financial resources for the excess personal property. Also, problems arise when the survivors of the deceased cannot agree to the disposition of tangible property. In this case, a court may order those goods to be sold in an estate sale with the proceeds to be divided between the survivors. Such a sale may also be mandated in the will of the deceased. Depending on the valuations of your personal property we may decide an estate sale is a good option. These can be conducted on an hourly or percentage rate or combination of both.
What is an estate auction?
There are several levels of auctioning. Estate auction houses can come in and take an entire house in a couple of days. Alternatively, estate auctions can be done right on the premise but this opens the door to a much more involved event. Sending things to auctions houses is quickest and often the easiest way to move your items. Auction houses will take everything from the very lowest to highest value. The auctions are attended by dealers, interior designers and end users who will bid wholesale prices so that they can resell them or keep them for themselves.
Generally, the auction fees are about 35% plus pick up fees. The auction houses have an interest in getting you the highest amount for your items so they will often pull out higher end items and reserve them for their higher end quarterly auctions. Estate sales and auctions have similar fee structures. With estate sales you get to set the prices (which you may not get) and they require more work including-set up, strike, advertising, labor, sale days and final distribution of non-sold items.
Estate sales are more involved and take longer while estate auctions can have a house cleared in a couple of days. Estate sales give you an opportunity to get the price you set, in the end you may not get it. Auction houses get the price that a person is willing to pay for the item and it may be less than you had hoped. In the end, everybody, whether it is a dealer designer or end user will be looking for a deal.
Both estate sales and auctions can work well depending on what you have. Generally, you do have to choose one or the other. Auction houses don't want to come in and pick up the "leftovers" from an estate sale after it has been cherry picked.
​
Why send things to a consignment store?
​
Moving Miss Daisy has its own consignment shop! This can be a good option for you but again it all depends on what you have. Consignment stores want items in excellent condition and also items that will sell in their region. Unusual items do well in consignment as well as items in season. Consignment houses will generally contract to sell your items for 2 months. Generally, they will split the proceeds with you. Each month you item is on their floor the price is reduced and then if it is not sold you may elect to have the item returned to you or they will dispose of it as they choose.
​
Why sell to dealers?
​
First of all it's very important to have an advocate working for you when Selling to specialty dealers can be an excellent choice. We negotiate the prices based on our valuations and you are paid right away. Nothing is left to chance by selling to dealer's. We will bring in vetted and trusted dealers that specialize in art, antique furniture, Asian antiques, collectibles, rugs and carpets, instruments, contemporary and mid-century items, electronics etc.
​
Why donate?
​
So many positive reasons to donate to charity. In some cases, you just want to see them benefit from your items. A good reason to donate is after everything has been sold you will have leftover items that still have value.
​
Why store things?
​
Sometimes, you aren't ready to part with certain items and we need to respect that. If they are in storage, you know they are there and that may be all that matters. Storage can be costly and devalue those items by whatever the cost of monthly storage is. It can be a good temporary place to put some of your items until you are ready to see them go.
​
What types of junk do you remove?
We will remove most items found on our junk removal list. We can arrange for the removal of hazardous materials. We can do a complete clean out of the apartment, condominium, home or business with a deep clean to ensure it is ready for the next occupant.
​
What questions should I ask when deciding to contract with a Senior Move Manager®?
​
How long have you been providing Senior Move Management services?

Have you participated in any formal training programs?

Are you fully insured for liability and workers' compensation?

How do you charge? (Fees should be provided in writing to the consumer or responsible party prior to providing services).

Will you provide a written contract?

Can you provide references?

Are you a member of the National Association of Senior Move Managers® (NASMM)?